Mika Petersen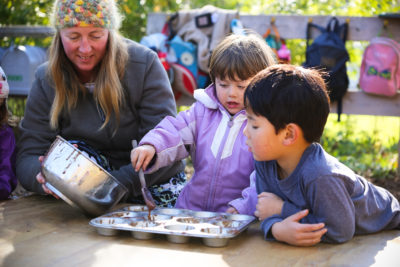 Mika was born in Mt. Pleasant, Iowa and was raised on a farm outside of Mediapolis,
Iowa where she graduated from high school in 1993. Following graduation, she attended the University of Iowa and obtained her BA in Anthropology. Mika then moved to Seattle, WA where she worked as a middle school para-educator. She returned to Iowa City to receive her teaching license through the College of Education in Elementary and Early Childhood Education with specializations in Reading, Social Studies, Science and Special Education.
Upon completion of her teaching degree, Mika taught for five years at Kinderfarm, a
preschool on a farm outside of Iowa City. There she learned to let nature guide her in the development of curriculum by feeding and tending to animals, planting and maintaining gardens, and exploring the outdoors alongside her students.
This will be Mika's seventh year as Lead Teacher at Kinderhaus where she has been inspired by the Waldorf philosophy, European outdoor kindergarten and the amazing community of families and staff to provide a nurturing and compassionate environment, enabling children to learn and grow. During the summers, Mika teaches at Kindernature, an outdoor-based early childhood learning program through Luther College.
When Mika is not teaching at Kinderhaus, she enjoys spending her time reading, writing, being outdoors, bike riding, camping, hiking, cross-country skiing and most of all, spending time with her daughters, Lula and Freyja.
Steve McCargar
40 years ago Steve was a student in the University of Michigan's pre-school education program. After leaving the U of M he worked as a teacher's aide in the Head Start program in Ann Arbor and also worked in the Ann Arbor public schools as an aide in an elementary classroom for children with behavioral challenges. He is now entering his seventh year at Kinderhaus and is variously known as "The Cookie Monster" or "Mr. Steve." Steve has spent his adult life trying to build a safer, nurturing environment for children everywhere. Along the way he directed the Ecology Center of Ann Arbor, was elected Winneshiek County Supervisor, co-managed Oneota Food Coop for 25 years, was president of a public employee's union and started Home Town Taxi in Decorah (with friends). In addition to Kinderhaus, you can currently find Steve at the Winneshiek Farmers' Markets, which he manages, or providing child care during the Unitarian Universalist services. Steve loves to play hockey and still does at the age of 69…
Kristin Albertson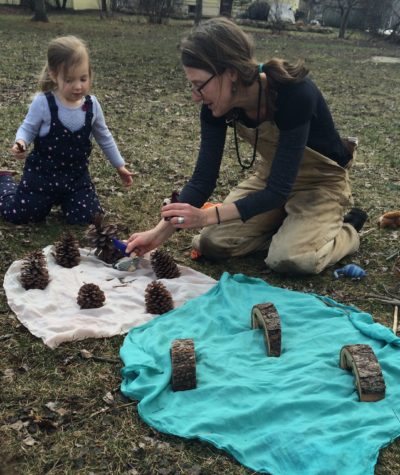 Miss Kristin began teaching at Kinderhaus in its "early years," and has since returned to us, bringing her songs and smile with her! Miss Kristin graduated from Luther College with a BA in Anthropology.  An educator at heart, she has homeschooled all three of her children. In addition to teaching at Kinderhaus, Miss Kristin leads "Circle Song," a parent-child weekly gathering for music and movement, with Otter Dreaming. Many of our songs at Kinderhaus are Miss Kristin originals!
Rachel Breitenbach-Dirks
Rachel is in her fifth year at Kinderhaus as director. She graduated from Luther College in 2006 where she studied English, Education, and Theatre/Dance. While working at The Living School in Boulder, Colorado, Rachel learned the art of "following the child." In 2008, she began teaching Kindernature, where she discovered the joys of playing in nature with preschoolers. In addition to coaching high school speech and drama, she has been a home care provider for children ages 2-4, and journeys through life with her two children, husband, and dog Penny. Rachel is so excited to be a part of such a nurturing school that truly values cooperative, creative play and spending time in the fresh air and sunshine. The future is bright!