Lydia Hayes
After deciding to move back home to Decorah last Summer,  Lydia applied to be Kinderhaus' Lead Teacher. She is SO excited to work with such a wonderful school that she has been privileged to watch grow since its beginning.
In 2018 she graduated with an Elementary Education Degree and License from Gustavus in St. Peter, MN. Since then she has worked as an outdoor educator at Eagle Bluff in Lanesboro and has spent the last year as a Student Support Coach at Anthony Middle School in Minneapolis. 
She has also worked at various day camps in town like Kindernature and Kinderhaus Summer Camp. 
It has always been her hope to move back to this dear community and cares deeply about supporting communities and families. .
 She is excited to learn with and from the staff at Kinderhaus. 
Kristin Albertson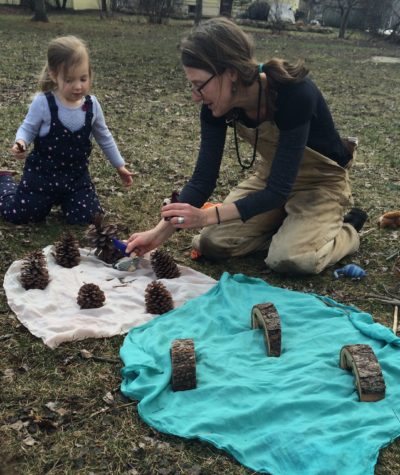 Miss Kristin began teaching at Kinderhaus in its "early years," and has since returned to us, bringing her songs and smile with her! Miss Kristin graduated from Luther College with a BA in Anthropology.  An educator at heart, she has homeschooled all three of her children (including Ms. Lydia! :)) . In addition to teaching at Kinderhaus, Miss Kristin leads "Circle Song," a parent-child weekly gathering for music and movement, with Otter Dreaming. Many of our songs at Kinderhaus are Miss Kristin originals!
Maia Usher-Rasmussen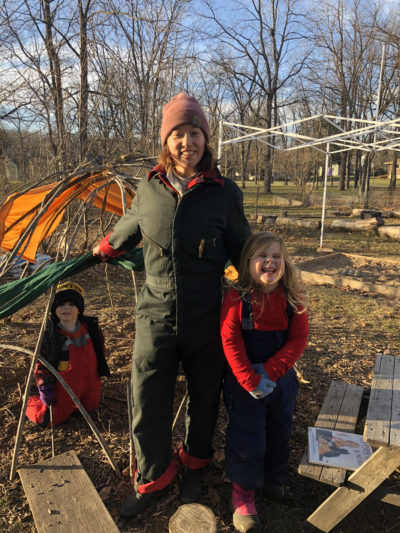 Maia (pronouns: they/them) is the new Afternoon Teacher at Kinderhaus. They are coming to Kinderhaus with a love for foraging, questions, growing seeds, and play. After spending time as a swim instructor, outdoor educator, and as a nanny they decided to study Outdoor Education as an emphasis to their major in Sustainable Food Systems at Sterling College in Vermont. As a part of their education they became an Outdoor Educator with the Public school system in Vermont teaching and designing curriculum around science, story-telling, and a sense of place for people in elementary school. They are so excited to be joining the cohort at Kinderhaus and to get to know the families who make Kinderhaus what it is as they grow their roots in Decorah. 
Steve McCargar
Many years ago, Steve was a student in the University of Michigan's pre-school education program. After leaving the U of M he worked as a teacher's aide in the Head Start program in Ann Arbor and also worked in the Ann Arbor public schools as an aide in an elementary classroom for children with behavioral challenges. He is now entering his eleventh year at Kinderhaus and is variously known as "The Cookie Monster" or "Mr. Steve." Steve has spent his adult life trying to build a safer, nurturing environment for children everywhere. Along the way he directed the Ecology Center of Ann Arbor, was elected Winneshiek County Supervisor, co-managed Oneota Food Coop for 25 years, was president of a public employee's union and started Home Town Taxi in Decorah (with friends). He is excited to welcome his grandson, Jack, to the program this year. 
Gracie Platt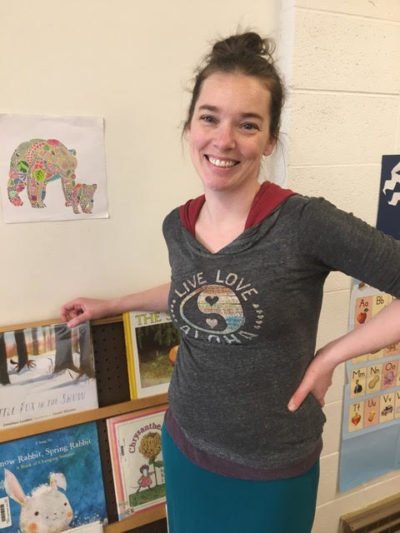 Gracie is in her fourth year as the Director of Kinderhaus! She graduated from University of Northern Iowa with a Bachelor's in Psychology and then moved to Chicago for 9 years where she graduated from University of Illinois Chicago with a Master's Degree in Early Childhood Education.  In graduate school, she learned about many approaches to education, including Waldorf, and she highly values play-based learning for young children to grow and thrive in a creative, authentic, and meaningful way. She taught preschool for 5 years before relocating to Decorah to be closer to family and live a quieter lifestyle with her family.   She is grateful to be a part of such a special community!